MEDSCINT and OSL sign distribution agreement for plastic scintillation quality assurance equipment
Quebec (CANADA), June 28th, 2023 – MEDSCINT, a leading provider of quality assurance (QA) dosimetry solutions for radiation therapy, has entered into a distribution agreement with Oncology Systems Limited (OSL), a major and trusted independent provider of medical equipment and software to the radiotherapy community. Under the distribution agreement, OSL will market and sell MEDSCINT HYPERSCINT™ solutions for research use to academic institutions, the NHS and private hospitals in the United Kingdom and Ireland.
"We help medical physicists understand, develop and deploy modern radiation therapy techniques by providing a new generation of versatile optical dosimetry solutions. Our sales are on the growth path, and this new partnership will allow us to expand our geographic reach, and offer our technologies to a wider audience," says Jonathan Turcotte, Co-founder and Chief Marketing Officer at Medscint.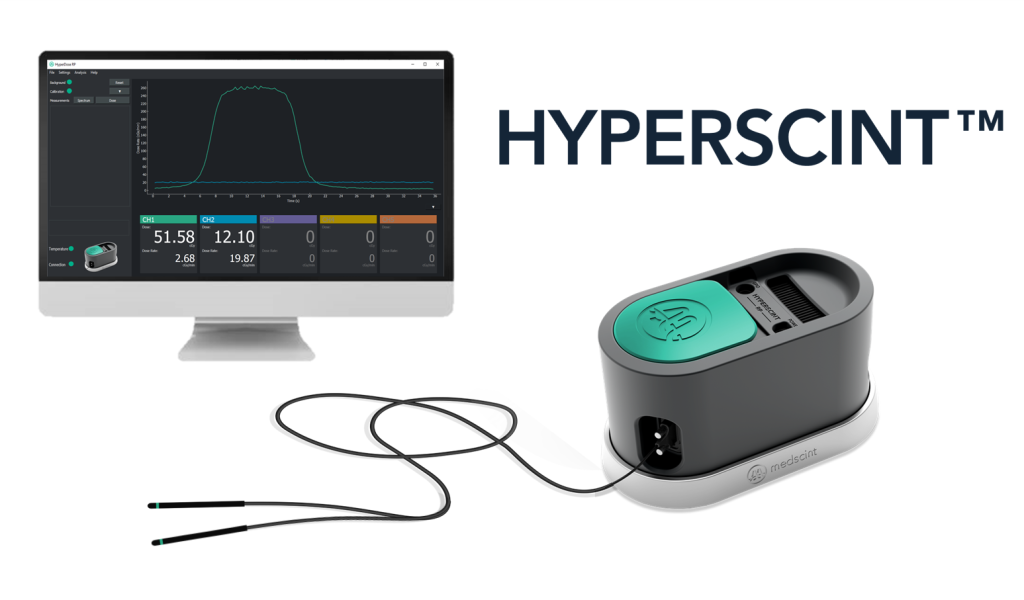 The MEDSCINT patented HYPERSCINT™ real-time dose measurement detector technology sets the standard for accuracy in demanding radiotherapy applications such as dosimetry of small-fields, real-time adaptive QA of MR-Linac and ultra-high dose rate irradiation protocols (FLASH-RT) .
HYPERSCINT™ unique features include:
Fast real-time dose measurements at multiple locations, simultaneously.
Water-equivalence, improving measurement accuracy without the need for correction factors.
Miniature sensitive volume (down to 0.1 mm³), providing sharp spatial resolution.
Robust hyperspectral stem-effect removal technique, enabling angular independence on 4π.
Linear response over a wide range of dose rates (from out-of-field to ultra-high dose rates).
Metal-free detector design, eliminating artifacts when used in high-strength magnetic fields.
"As a global provider in the radiotherapy market, OSL aims to offer a full portfolio of advanced dosimetry solutions, and plastic scintillation detectors from MEDSCINT proved to deliver outstanding performances. Moreover, they share our values for quality and cutting-edge solutions, so we are thrilled to give access to our customer base to such innovative and promising technology," adds Alice Pavey, Managing Director at OSL.
About OSL
Formed in 1999, Oncology Systems Limited (OSL), is a major and trusted independent provider of radiotherapy equipment and software to the UK and Ireland. The team is comprised of clinically qualified radiation therapists, medical physicists, and imaging scientists, giving OSL the expertise to distribute their innovative and cutting-edge portfolio. Service and support are delivered by experts, ultimately enabling clinicians to deliver the highest quality therapies for the treatment of cancer. For more information, visit www.osl.uk.com.
Media Contact:
Medscint Inc.
1405, Parc Technologique
Québec, QC
G1l 4P5 – CANADA