Let's celebrate
All occasions are good to celebrate, and Medscint just turned four! As a startup, this means a lot to us, and therefore we invited our entire team to the 2022 COMP Annual Scientific Meeting to meet with other medical physicist colleagues, and enjoy a few drinks at the evening scientific poster session.
Our academic roots towards excellence
The Medscint business venture began several years ago when our President and CEO, Francois Therriault-Proulx, was working on the fundamentals of scintillation dosimetry, covering doctoral and postdoctoral research positions at Université Laval (with professors Luc Beaulieu), and at the University of Texas MD Anderson Cancer Center in Houston (with professor Sam Beddar). Looking at what these scintillation dosimetry pioneers have accomplished, we are grateful that François had the chance to learn from the bests in the field!
From 1, to 3… to 10… to 35!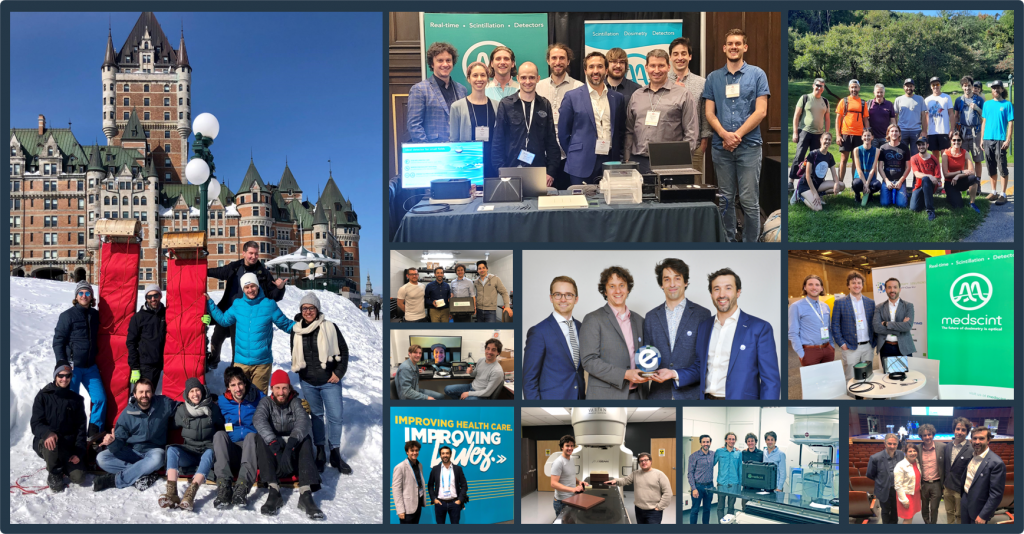 In 2018, François launched Medscint with his co-founders Simon Lambert-Girard and Jonathan Turcotte.
Four years later, we are proud of our team that combines expertise in medical physics, dosimetry, optics and photonics, hardware design, software engineering, business management and quality assurance. In numbers, as of today, Medscint is:
10 employees plus collaborators with a diverse and complementary skillset
15+ customers from the USA, Europe, the Middle East and Canada
35+ scientific articles/presentations involving our cutting-edge HYPERSCINT™ scintillation dosimetry research platform
A big thank you to all our colleagues, collaborators and friends for those four years, and looking forward to accomplishing much more in the years to come.